As a top Brisbane buyers agent, we've always got our finger on the pulse of the Brisbane property market. Check out what's happening in Chermside.
A new restaurant in the form of an American-style diner could open at Chermside if it gets council approval.
The restaurant would operate under the Slim's Quality Burger Restaurant brand, and would be the first of its type in Queensland, with the chain set to open in New South Wales later this year.
It would be situated at 678 Gympie Road in Chermside, on a 2897sq m site also bordered by Wallace Street and Abarth Street.
The 203sq m restaurant will offer dine in, take away, a drive through and something a bit different – with the ability to drive in and park, scan a QR code and order from your car, with the order then being brought out to you. It will have an 'arch-style' car park with space for 15 cars.
If approved, it is hoped the restaurant, which will serve burgers, fries, thickshakes and ice cream sundaes, will open in April or May next year.
Residential and commercial buildings on the site would be demolished to make way for the development, which would bring unique amenity to the area.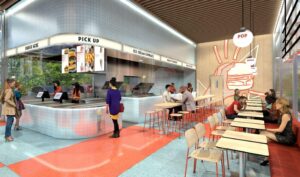 Market Snapshot – Chermside
| | | | | | | | | | |
| --- | --- | --- | --- | --- | --- | --- | --- | --- | --- |
| Median house price | House average annual price  growth | Houses sold over past 12 months | Median Unit price | Unit average annual price  growth | Units sold over the past 12 months | Demand level | Population | Median age of residents | % of renters |
| $705,000 | 4.8% | 79 | $400,000 | -0.58% | 198 | Balanced (H) & Above average U) | 9,315 | 35 | 60.4% |
Source: CoreLogic, ABS 2016 Census, www.dsrdata.com.au
Would you like help with your next Brisbane home or investment property purchase?
As a Brisbane buyers agent focused on the best results for our clients we'll help you make a smart buying decision on your next property purchase. We act independently and only select homes that meet our strict 'smart buying' criteria.
Our clients' regularly tell us they engaged us because they were frustrated by their Brisbane property search. They were sick of wasting their time at weekend open homes and in the evenings – time that could be better spent with their loved ones.
We'd love to help you make your next Brisbane property investment or home purchase.
FREE session: "Brisbane Buyers Agent Insight Session"
Imagine being crystal clear on what's most important to you, so you can buy a property that sets you up best financially and lifestyle-wise. Book a free Brisbane Buyers Agent Insight session today. In this session, we'll help you get clear on your Buying Brief. We'll also give you some insight into hot Brisbane property opportunities available right now.
This session is valuable to home buyers, investors, and first home buyers.
You'll leave our session knowing exactly the type of property you need to grow a strong financial future and property portfolio.
To book your "Brisbane Buyers Agent Insight Session" register at the form to the right of this blog, call 0409 499 034 or email paul@brisbanebuyersagency.com.au